Bridge & Structural Bearings
Innovative bridge and structural bearings designed for iconic feats of civil engineering
Spherical Bearings
For thermal, seismic and mechanical movement, as well as multidirectional rotation.
Spherical Bridge Bearings
RJW Spherical Bearings allow for thermal, seismic and mechanical expansion and contraction. They also provide multidirectional rotation for highway bridges, railway bridges and other civil engineering structures.
Custom Engineered
RJW Spherical Bearings are all custom engineered to meet the specified requirements of the structure efficiently. They are also designed, fabricated, tested and inspected to meet ASTM, AASHTO, AREMA or other specified standards.
No Vertical Displacement
RJ Watson PTFE spherical bearings are designed for large rotations and can, when specified, accommodate high vertical loads with virtually no vertical displacement.
A PTFE to polished stainless steel sliding surface is used to keep expansion, contraction and other forces from transmitting to the structure.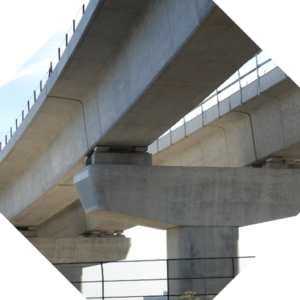 RJ Watson offers three types of spherical bearings:
Fixed
Guided expansion
Non-guided expansion
RJ Watson spherical bearings consist of a concave bearing plate, a convex mating plate, an upper sole plate and a lower masonry plate. Sliding surfaces consist of bonded PTFE mated to highly polished stainless steel. Either woven PTFE or sheet PTFE may be used depending on a project's requirements.
Design and Test Your Bearings
The experienced engineers at RJ Watson can help you find the right bearings for your project with our no cost, no obligation design services, as well as our extensive testing capabilities.
Learn More
Featured Project
Corning Museum of Glass
At the Corning Museum of Glass North Wing Addition, 12 spherical bearings were designed and manufactured for this major addition to the museum.
Learn More
RJ Watson works with engineers, contractors and owners to create bridges and highways that reliably serve their communities while simultaneously solving engineering challenges. RJ Watson is available to work with you to create a cost effective solution for your specific project.